March 2003
1st Bluebird Box Place On Audubon Property
BRADENTON AUDUBON CLUB
PARRISH, FL PROPERTY
Ten Bluebird Box complete setups were installed in March 2004 on the newly aquired property given to the Bradenton Audubon Club.
The club decided to ask a group of home schooled youth, which also are 4-H members to build the Bluebird setups. The young people followed the new 4-H Bluebird Project Book Pilot Booklet.
Note: Years 2004 and 2005, no birds have
used the boxes. I received a phone call in
2007 that Bluebirds had been spotted on
the property!
Two young people in this group were the first to enter their posters on Bluebirds, in the county fair, which is a part of the 4-H Bluebird Project Booklet.
This group will also Monitor the boxes as part of their school project. Monitoring will be turned over to Audubon when the youth have finished their school project.
In the group photo are some of the home school youth who built the setups. The single box photo is showing the young lady who built the setup, and Judy Anderson their teacher. David Williamson and Tom who are with the Audubon Club dug the holes for installing.
UPDATE: Bluebirds spotted in area -2008.
* * * * *
BUFFALO CREEK GOLF COURSE
PARRISH, FL
* * * * * * *
* * * * *
MEADOWS COUNTRY CLUB
SARASOTA, FL
In the few years that these boxes were Monitored, there were only one nests of a Carolina Wren, and each time the nesting was unsuccessful. The volunteer Monitor gave up Monitoring this Trail. This Trail is found on the West side of the Interstate where no Bluebirds have ever nested.
Note: This Trail no longered Monitored. Contact me if you would like to Monitor.
* * * * * * *
MISTY CREEK COUNTRY CLUB
SARASOTA, FL
* * * * * *
ORCHID MANIA
NURSERY, INC
There is a very successful Bluebird Trail on the property, which can be looked at from a distance. In the past years there have had numerous Bluebird nestings, a Greatcreasted Flycatcher, and Tufted Titmouse. Monitor Cindy is doing a fantastic job of Monitoring! Come and visit this beautiful orchid nursery, and look at what a Bluebird Trail is.
CLICK HERE TO GO TO ORCHID MANIA'S WEB SITE:
* * * * *
.............................................................................................
TRAIL M 9 Monitor was Bob Weppler
Note: This Bluebird Trail now needs a Monitor. If you would like to be this Trail's Monitor, please contact me.
The River Club: One of Bradenton's Finest
by Joe Bruno, TravelGolf.com Senior Writer
BRADENTON, FL -- It's the time of the year where golfers up north start thinking about where they will travel this fall and winter to continue their year long quest at whacking away at that little white ball. Bradenton, Florida, with itıs year-long warmth and glut of fine golf courses should be at the top of any duffers list. And while in Bradenton, located in Manatee County, try golfing at The River Club, a golfing community whose semi-private golf course is open to the public. The course at The River Club, which was designed by Ron Garl, is long and hard, with water crossovers on several holes. Your score might take a beating, but you'll still enjoy a pleasant day on the links, mingling with nature's wildlife.
To get the The River Club, Take I-75 to Exit 41 A (To Arcadia). Go east about one mile and the entrance to The River Club is on the right side of the road. Follow the signs to the clubhouse.
Two caveats to make your round of golf at The River Club more enjoyable. You might see an alligator, or two, dozing off in, or near the water hazards. They wonıt bother you, if you you donıt bother them. And that means if a miss-hit ball of yours wanders on land near Mr. Alligatorıs domain, take a smart drop, no further forward, with no penalty stroke added to your score. If your golfing partner has a problem with that, tell HIM to retrieve your ball.
And it would be wise to stay out of the environmentally sensitive areas that dot the course, or youıll risk stepping on Mr. Rattlesnake. A few years back, two poisonous rattlesnakes wandered onto The River Club Golf Course, which was opened in 1988, and were immediately killed. None have been seen since, and snake bites are rare in Manatee County, which averages less than five snake bites a year. Still, thereıs no reason for you to risk being number six. So play it smart, and follow the posted procedures.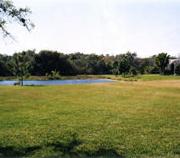 The River Club scorecard lists several helpful club rules. It would be wise to take note off them before you start your round of golf.
They include:
It is mandatory that all electric and hand pulled carts keep of mounding around tees and greens.
YELLOW stakes and/or lines designate water hazards. RED stakes and/or lines designate lateral hazards.
PUTTERS ONLY may be used on all greens. THIS RULE WILL BE STRICTLY ENFORCED.
No hunting of balls in ENVIRONMENTALLY SENSITIVE AREAS and NO HUNT AREAS play as LATERAL HAZARDS. THIS RULE WILL BE STRICTLY ENFORCED. (Note: Rangers are seen frequently circling the course and theyıre not kidding about ³strictly enforced.² This is for your own safety.
Any player hitting ball into water hazard must move to assigned drop area on holes #2, #8, #10, #16 and #18. (Note: Good rule to save hackers a few balls by eliminating the need to hit twice over water carryovers.)
If ball comes to rest at the base of a newly planted tree (2" diameter trunk), or is in danger of being hit by club, shot, or swing (Free Drop) to avoid damaging tree (Note: This rule I like.)
There are five tee boxes at The River Club. The championship gold tees run 7026 yards, with a rating of 74.5 and a slope of 135. The championship blues run 6614 yards, with a rating of 72.1 and a slope of 130. The whites (from which this review is given) run 6102 yards, with a rating of 69.7 and a slope of 125. The senior greens run 5622 yards, with a rating of 69.0 and a slope of 119. And the ladies reds run 5157 yards, with a rating of 70.4 and a slope of 121.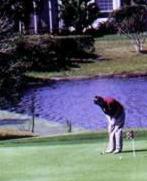 As you can see from the above figures, the golf course at The River Club is no easy cakewalk. And there are no gimme par-3's either. The shortest of the par-3ıs runs 142 yards. And into the wind (which we encountered on our round of play), this hole can play 20-40 yards further.
The most difficult rated hole on the front nine, and second hardest rated hole overall, is the par-5, 532 yard (587 yards from the golds) hole number 5. Thereıs water on the left side of the tee box and water on the right side of the fairway, starting about 200 yards from the green and extending all the way to the green. The lake also protrudes out in front of the green, about 50 yards from the hole, cutting out about half the fairway. So any approach shots hit right might get wet. There are also two sand traps on the right hand side of the fairway about 200 yards from the tee. This hole plays long and narrow. Big hitters may try to hit the green on three, but it might be wise to lay up in front of the water, then go for the green on four.
The hardest ranked hole on the course, and rightfully so, is the par-4, 385- yard, dogleg left hole number 16. There is a huge body of water surrounding the island green, about 50 yards wide in front. The key to scoring well on this hole is your tee shot. Go too far right and thereıs a body of water waiting for your ball. Go less than 200 yards on your tee shot, and unless youıre a gambler like Evil Kanevil, youıll have to lay up in front of the lake on your second shot, then go for the green on three. Get a bogie here and consider yourself lucky.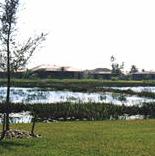 The par-4, 320-yard 18th hole is short and straight. A gimme hole, right?
Wrong.
On your tee shot you have to clear 180 yards of wasteland (230 yards from the golds) to make it to the narrow fairway on the other side. Then on your second shot to the green (if your ball made it over the wasteland ) you have to contend with a huge wasteland (about 50 yards long) on the right side of the fairway, and two sand bunkers, one protecting each side of the green. This hole is only ranked 13th hardest on the course, but for the life of me I canıt figure out why.
The bottom line on highly recommended The River Club is that it's a tough course to score well on, with several challenging holes. Stay away from the wildlife, four legs and no legs, and youıll have a sound and scintillating time.
The River Club Golf Course
6600 River Club Blvd.
Bradenton, FL 34206
(941) 741-4211
General manager -- Mike Pascuzzi